I found my old majestic plaid shirt. It originally belonged to my sister before I staked claim to it, many many years ago. It has been through many campfires, and sprays of bug spray. It is a noble garment, but it's rather quite tired looking. Not to mentioned wrinkled as hell. Nothing an iron can't fix, but it's rather quite pitiful looking at the moment.
Glorious. Majestic. You wish it was yours!
So, I as I said previously -I'm tempted to make it anew. Revive it into something more.... alive. But I have to be careful. There is only one majestic plaid shirt, so I can't botch it. Therefore, once I do have an idea, I still might make it out of another less valued plaid shirt to see if it looks correct and the quantity of fabric is enough.
My current thought is using Simplicity 2355, in the longest style.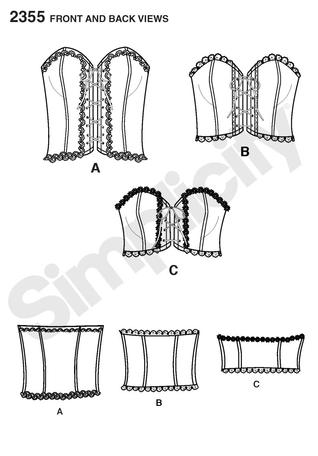 I've used it before in the mid-length which I wear underneath my Game of Thrones maxi dress. While I think I've made it a size bigger than I needed, the mid-length is fairly long on me, since I have a super short torso. Therefore the longest length should work perfectly as an actually non-undergarment. People have found it a rather non fitted bodice, but whatever I did when I made it, worked fine. I'm not using it as actual corset after all. Though I did put boning in it, and lined it....which I don't recall was required for it. I think.... I just used the pieces and made it up as I went along.
I'd like to add little mini (faux) pockets to it as well. Cut on the crossbias as I've seen many plaid shirts do. If there was enough, I'd even want to make a ruffle out of the scraps and trim it with that, but that might really push it. Though..... the colours aren't too difficult to match I could almost trim it in a plain cotton ruffle of blue or white.
Including the original buttons would be a superplus. I also want to add that supernatural touch. Some how adding one of the known sigils? Though, if I was going to be true to Supernatural form, I'd distress the demons out of it by slash at it, tearing it and staining it. But... not my precious plaid.
Perhaps if I do indeed make a mockup I'll attack that one instead.
Thoughts, thoughts, thoughts.